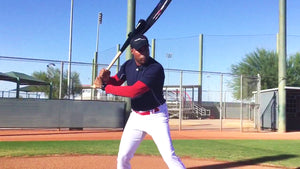 12 Time World series champion & HALL OF FAMER
POWERCHUTE® PARTNER BARRY LARKIN
BASEBALL WORLD CHAMPION
With 12 All-Star, World Series Champion titles under his belt, Hall of Famer, Barry Larkin is considered one of the top players of his era.
He played baseball for the University of Michigan and hit .361 during his three seasons there (1983-1985).
Larkin proceeded to join the Cincinnati Reds in 1986 and in a four-game sweep of the Oakland Athletics, helped lead the Reds to a championship in the 1990 World Series.
Larkin also played on the U.S. Olympic Team at the 1984 summer Olympics in Los Angeles and hit .311 helping his team win the silver medal.
BASEBALL MENTOR AND EDUCATOR
Barry Larkin has been an inspirational figure amongst players and fans alike for his tremendous baseball talents and outstanding character.
In 1994, Larkin was awarded the Lou Gehrig Memorial Award, a title that honors players who exhibit the character and integrity of Lou Gehrig, both on the field and off.
Larkin is also an experienced baseball analyst and broadcaster who has previously worked on ESPN's Baseball Tonight and the MLB Network.
In 2021, Larkin joined the cast of Fox Sports Ohio, where he educates and informs viewers on what is happening on the field and, more importantly, why.
BASEBALL HALL OF FAMER USING THE POWERCHUTE®
"You'll be amazed at the amount of bat speed you have!"
In this video, Barry Larkin tells MLB TV why POWERCHUTE® is better than any other bat speed training system on the market today.
TRAIN WITH THE POWERCHUTE YEAR ROUND
Barry Larkin describes how he trains with the POWERCHUTE® year-round to increase core strength during the off-season and prepare you on game day in-season to "build your swing from the ground up!"
SHED LONG USING THE POWERCHUTE®
"I'm on deck. I snap this on, nice and easy. I take my 3 warm-up swings. On my third swing, I feel that snap out front."
In this video, Shed Long, Cincinnati Reds 2013 MLB draft pick and current Seattle Mariners player, demonstrates how he likes to use the POWERCHUTE® to warm up on deck.