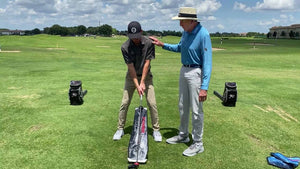 GOLF ICON - MENTOR AND EDUCATOR
POWERCHUTE® TEAM - DAVID LEADBETTER
GOLF ICON
David is a true icon of modern golf, helping to shape not only the careers of some of the best players in the world but also the industry.
He has always been a pioneer, someone who has created new techniques and ways of imparting his knowledge that have left a footprint across the world. His legacy will be having brought the game of golf to a large global audience and made it easier to play and enjoy.
David has worked with 11 Major winners who have gone on to win 26 major championships and over 200 worldwide victories.
Seven of the players he worked with have held the coveted title of World's #1 Golfer during that time in both the men's and women's game.
GOLFL MENTOR AND EDUCATOR
In addition, David is one of the most accomplished Businessmen in the golf industry having built up his Leadbetter Golf Academy on a global basis, with 37 Academies in 15 countries.
He has sold over 2 million copies of his self-authored books on instruction as well as invented a number of swing aids, one of which became the most successful in history.
At the end of 2019 David entered into an agreement with Golfzon, a South Korean conglomerate who lead the world in Golf Simulators, to continue the growth of his Academy business.
With over 60 million rounds of golf played per year on their simulators this will further David's profile and influence in South Korea as well as around the world.
David is also a pioneer in the digital space having created an online University learning and education platform that will bring certified coaching and expertise to a global audience as well as launched a community app providing courses and allowing users to connect and interact. He continues to look at innovative ways to help players of all levels enjoy the game.
WORLD RENOWNED GOLF COACH USING THE POWERCHUTE®
"Unbelievable golf training aid that will help golfers of every level."
In this video David demonstrates how easy the POWERCHUTE® is to assemble, as well as the POWERCHUTE® mobility with use of a convenient carrying case. As Leadbetter works with a golfer using the POWERCHUTE® MACH II, he demonstrates how you can feel the resistance all the way through the swing and the power in your swing once the MACH II is removed. David uses the POWERCHUTE® MACH II golf training aid with golf pros and juniors.
In David's expert opinion, the POWERCHUTE® improves speed and conditioning while also improving speed and power.