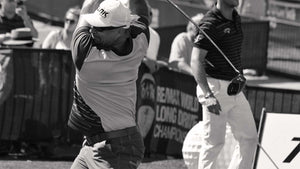 WORLD LONG DRIVE ICON - GOLF FITNESS COACH
POWERCHUTE® TEAM - JASON ZUBACK
WORLD LONG DRIVE ICON
ason Zuback is a one-of-a-kind golf icon. Not only is he a 6 time World Long Drive Champion, but he is also the only competitor to have won more than 3 open division championships.
Beyond his impressive driving skills, Zuback is also considered one of the world's top golf entertainers.
Jason has performed at over 500 exhibitions across 20 countries and 4 continents. He is a worldwide golf superstar whose expertise in driving, fitness, performance shots, entertainment, and humor make him an outstanding addition to any golf event.
GOLF FITNESS COACH
Zubeck has been involved in golf-related fitness his entire career. In 2003 he joined the Titleist Performance Institute, TPI, as an instructor for the TPI Power Coach Certification program. TPI is the world's leading educational organization dedicated to studying how the human body functions in relation to the golf swing.
His strong scientific background, stemming from being a pharmacist graduating from the University of Alberta, has immensely impacted his knowledge, work ethic, understanding, and analytical approach to golf fitness.
ACCOMPLISHMENTS
6-time World Long Drive Champion – Open Division 1996,1997,1998,1999,2006; Senior Division 2015
2015 World Powergolf Matchplay Champion – Senior Division
2015 World Powergolf Matchplay 2nd – Open Division
2001 International Long Drive Champion
1998 LDA Tour Champion World Long Drive Championship (Open Division Only):

19 Top 25 Finishes
14 Top 12 Finishes
12 Top 10 Finishes
10 Final 8 Appearances
7 Top 10 Finishes in a row
3 Straight title defenses (next closest – 1 title defense)
First competitor at World Long Drive
Championship to win under straight shootout and head to head match play formats
6X WORLD LONG DRIVE CHAMPION TRAINS WITH THE POWERCHUTE®
"I am very excited to let golfers know about the benefits of the Powerchute," said Zuback. "I am a believer because it is a tool that has helped me achieve the success that I have had in the long drive sport. The great thing is that the Powerchute is a tool that will help golfers of all skill and experience levels by dramatically increasing clubhead speed and developing proper sequencing. Quite simply, Powerchute is the best training aid I have used to develop speed and make my swing better!"
"I realized before the 2006 RE/MAX Long Drive Championship that I needed to try something new to put my game over the top. That's when I discovered the Powerchute, and I can honestly tell you that it was the one thing that I did differently to win the title for the first time in seven years," said Zuback. "If I was to have only one training aid the Powerchute would be it."
The Golf Wire