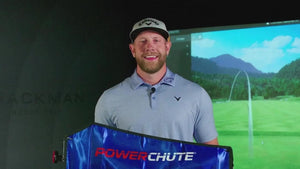 WORLD LONG DRIVE CHAMPION - 4 TIME WORLD RECORD HOLDER
POWERCHUTE® TEAM - JOSH CASSADAY
WORLD LONG DRIVE CHAMPION
Cassaday isn't just a record-setter. He's also earned a spot in 4 World Long Drive Championships and, despite what you may be thinking, he is also quite good on the green and plays to a .4 handicap.
Casaday picked up golf later in life after playing Division 1 basketball at South Dakota State, however, he hasn't let this late start impede his success.
He has participated in over 85 Charity Golf Events generating over $400,000 in charitable contributions for various charities across the United States.
4 TIME WORLD RECORD HOLDER
Josh Cassaday holds 4 Guinness world records for:
Longest golf shot on his knees (375)
Longest backwards drive (343)
Longest drive with a putter (313)
Longest club throw (83 yards)
If that's not impressive enough, Cassaday also raised $10,000 for the Boys and Girls Club of Metro Denver.
LONG DRIVE PROFESSIONALS TRAIN WITH POWERCHUTE®
"It can be that resistance trainer that allows you to get the body primed and ready to swing fast and hit the ball far."
In this video, long drive professional Josh Cassaday explains why he prefers training with the POWERCHUTE® to increase swing speed and driving distance.Cassaday also discusses how versatile the POWERCHUTE® is — citing that it can be used in the office or at home to build speed and power in your swing.
HOW DOES THE POWERCHUTE® COMPARE?
"I highly suggest you utilize it on the driving range before your next round."
Cassaday has been able to increase his clubhead speed by 4 to 5 miles per hour and his consistency has improved tremendously after training with the POWERCHUTE® for only a few minutes.